We develop and build special process systems. We understand the technology and the product.
Our customers from across a wide range of industries have diverse requirements in terms of modification, expansion, retrofitting, renovation or relocation of their process systems. Maximum standards of function, quality, modernity and cost-effectiveness as well as the thrifty use of energy and resources are required.
Everything from a single source
We support our customers by considering and understanding their products as well as their process equipment as a whole, taking into account the aspects of energy and waste water as well as the associated, complex interactions. From this, we develop suitable integrated solutions from a single source.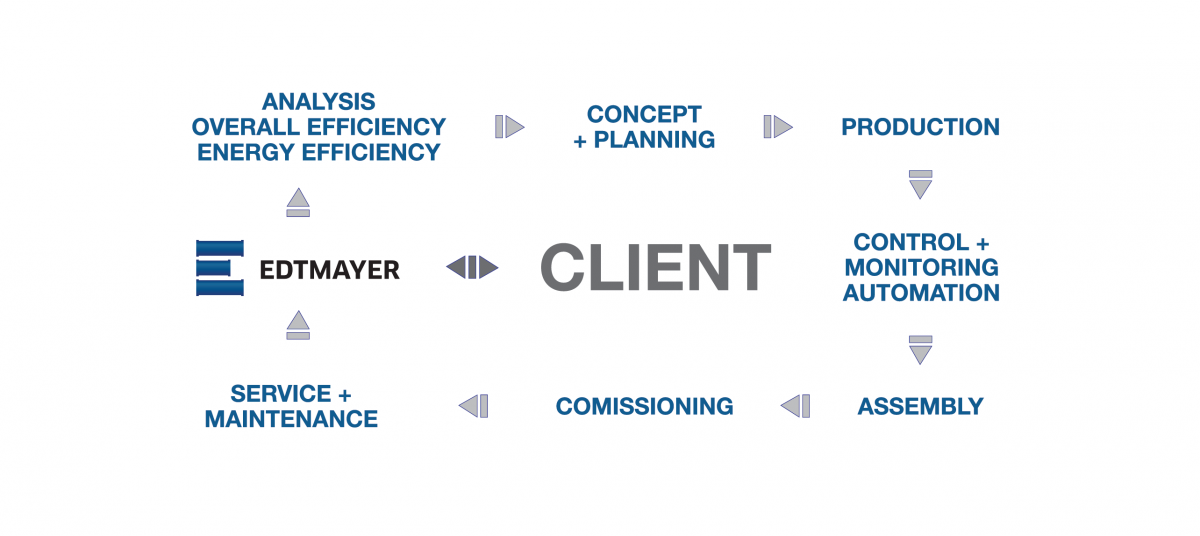 Your interests are the starting point of our consultation and the optimal solution for you what our support is aimed at. We rely on state-of-the-art environmentally-friendly technology with an optimal price-performance ratio.
Practical applications
Foodstuff industry
Heating plants, UHT plants, pasteurisation plants for milk, soy, pudding
Collection tank, storage tank, sterile tank for e.g. collection of milk, UHT plants, interim storage
Filling and emptying of liquid, paste and powdery foods e.g. fruit concentrate, chocolate, milk, lactose, casein, fruit yoghurt
CIP cleaning systems (central, decentral, mobile), container purification, container sterilisation for e.g. milk, fruit juice, beer, wine
Sterile interface e.g. at UHT plants
Energy supply and energy optimisation
Steam boiler, hot water boilers, warm water boiler systems, biomass boilers
Condensation heat exchanger, exhaust gas heat exchanger, improving efficiency
Condensation system
Burners
Feed-water preparation
Heat recovery
Compressed air stations
Cooling systems
Process data logging, monitoring, needs-determination
Energetic overall view
Energy auditor according to § 17 EEffG
Energy management system
Industrial and communal wastewater treatment
New construction, optimisation, refurbishment, expansion of water treatment systems
Biofilm process for cleaning systems, ativated sludge, bio combination, fixed bed, SBR systems
Flotation
Fat separation
Automation
Customized automation concepts
Issue of customer requirement specifications and product requirement specifications
Integration of new plants
Planning and realisation:

Sensor technology (pressure, temperature, mass, flow etc.)
Control
Actuator engineering (e.g. control valves, pumps)
Validation

Linking external systems
Data collection, energy monitoring systems (b.data Siemens)
We strive for continuous improvement in order to be able to win you over in the future as well with the best quality in performance and results, whilst being prompt and reliable.